Using Business as a Force for Good is Big Business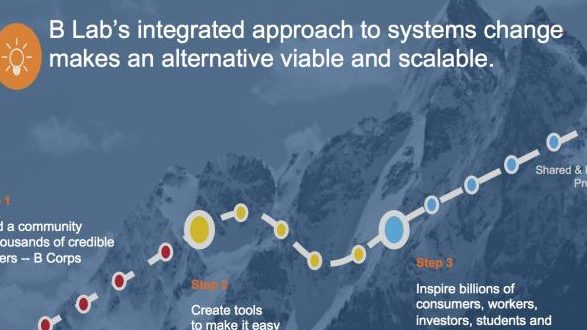 By Jessica Thomas
"A historic shift is underway worldwide, driven by a global movement of people using business to build a more inclusive and durable economy," Jessica Thomas advised the CIMS Annual Meeting, last November. Thomas lectures in the  Department of Management, Innovation, and Entrepreneurship in NC State's Poole College of Management, and directs its Business Sustainability Collaborative.  She expands on the business implications of this shift in her article below, adapted from her Nov. 2016 CIMS  presentation.
Millions of consumers and workers, trillions of dollars of investment, and thousands of businesses share a vision to help address society's greatest challenges and to harness the power of markets to create positive change (1).
This transformation is rooted in a transitioning from an emphasis on shareholder value to a 21st-century perspective that is focused on creating value for all stakeholders, from employees to customers to investors. This new stakeholder framework is resonating not just with business owners, but also with policymakers, investors, and consumers.
Consumers are demanding environmentally and socially sustainable products. Workers and particularly millennials are seeking purpose-driven organizations. Investors are demanding returns that go beyond the financial. Companies from start-ups to multinationals are beginning to see the business opportunity in solving social and environmental challenges.
The nonprofit B Lab is leading this global movement, bringing together a community of businesses, academics, consumers, and changemakers. The B Lab founders, Jay Coen Gilbert, Bart Houlahan, and Andrew Kassoy, share a passion for creating a better world through business. Based out of Philadelphia and with offices around the world, the organization has developed a rigorous, transparent, credible set of standards to certify for-profit companies as B (benefit) Corporations.
Through the B Impact Assessment (BIA), B Lab evaluates companies on their impact on the environment, their workers, their customers, and their communities; they must also meet the highest standards of accountability and transparency in reporting social and environmental impact. The BIA evaluates companies across five areas of impact shown in the accompanying diagram. Out of a possible 200 points, companies that exceed the 80-point threshold can qualify to become B Corp Certified.
The B Corp community is global, and growing with over 2,100 certified B Corps from startups to brands like Patagonia, Ben & Jerry's and Seventh Generation. B Corps are based in over 50 countries and span over 140 different industries. These companies share one unifying goal: They are working to build a global community of companies that meet the highest standards of verified, overall social and environmental performance, public reporting transparency, and legal accountability.
Opportunity for Big Business
Historically, B Corps have been primarily small to medium-sized privately-held companies, but a growing number of multinational and publicly-traded companies are interested in engaging with the B Corp movement. Still, only a handful of companies competing in the capital markets are currently certified B Corps including Natura, Etsy, Silver Chef, and Laureate Education.
A number of institutional and practical barriers have made it hard for multinationals and public companies to earn B Corp Certification and for B Lab to meaningfully assess and verify their performance. To address these challenges, in 2015, B Lab announced it would establish a Multinationals and Public Markets (MPM) Advisory Council to identify a clear path to B Corp Certification for multinationals and public companies.
The MPM Advisory Council is working to adapt the B Corp assessment to meet the needs of multinationals, to navigate a more manageable path for them to join the movement while still maintaining the rigor and the creditability of the certification. The advisory council includes representatives from Danone Group, Unilever, Natura, Prudential, Campbell Soup, as well as Deloitte, EY (Ernst & Young) and other major multinationals.
Despite these barriers, there are other opportunities for multinationals and public companies to engage with B Lab and exercise their leadership in this global movement. Companies can get engaged in a Measure What Matters Partnership to measure and improve the social and environmental performance of the company, its subsidiaries, suppliers, customers and/or investees. This is often the first step for multinational engagement with the B Corp movement regardless of whether it is interested in eventual B Corp certification.
According to B Lab, the BIA provides companies with a path to:
Develop impact management practices that allow the company to manage their social and environmental impact with as much rigor as their profits;
Align with the aspirations of millennials, who seek careers, purchases, and investments consistent with their personal values;
Strengthen corporate culture around a social purpose by deepening its commitment and capacity to create value for all stakeholders;
Adopt Environmental, Social and Governance (ESG) best practices that support long-term shareholder value creation; and
Demonstrate credible leadership at a national and global level that attracts positive press and strengthens brand equity (2).
Investors are also taking note,  using the B Impact Assessment as a framework to hold their investments accountable for impact as well as financial returns. Mainstream venture capital including Andressen Horowitz and others are investing in B corps to the tune of hundreds of millions of dollars. Investors are recognizing the value of being able to ensure investments are having as positive an impact as possible, contributing to a company's brand value as well as its bottom line.
Academia in the B Corp Movement
NC State University is a leader in the academic wing of the B Corp movement through research, experiential learning projects and curriculum development. The Business Sustainability Collaborative (BSC), in the Poole College of Management at NC State is working to build the B Corp Academic Community, a network of over 100 academics from leading business schools around the world, focused on studying B Corporations and teaching the next generation of business leaders how to build a culture that values social impact as much as profit.
"Incorporating a sustainability strategy into a company is standard practice for most firms today; however, the B Corp movement takes these social issues to the next level by embedding the goals of a triple bottom line—people, planet, profit—into the business model and governance of the organization," says Rosanna Garcia, Associate Professor of Marketing & Innovation and BSC Faculty Director. "Academics are curious to know how these strategies that now drive organizational decision-making change how a company approaches doing business."
From a pedagogy perspective, NC State's B Corp Clinic connects students from six universities to aspiring B Corporations to improve their impact business model. In this way, the  Clinic provides an experiential learning opportunity for students who study best practices in areas such as governance, workers, environmental and social impact, and also hone critical thinking skills.
Interdisciplinary students from NC State University, Duke University, UNC Chapel Hill, Appalachian State University, Elon University, and Wake Tech Community College all work collaboratively on sustainability focused-projects.
Working with Companies
Over the last two years, the B Corp Clinic has worked with 22 companies, engaged 115 students and helped aspiring B Corp companies make progress on the BIA as well as track their business impact. Companies  include:
Red Hat, a North Carolina-based open source technology company with over 9,000 employees worldwide. Clinic students explored how B Corp certification aligned with the company's culture and brand. They worked with representatives from across Red Hat to gather documentation in order to develop a baseline B Impact Assessment score. Students also evaluated strategies for improving Red Hat's BIA score and developed a pitch to make the case to Red Hat leadership on the value of B Corp certification.
Galuku, an Australia-based multinational that develops products made with coconut husks for multiple industries including horticulture and hydroponics. The Clinic team explored quantifying the impact of the company's complex supply chain by developing a supplier code of conduct and a supplier survey. They also worked with the company to measure energy and GHG emissions as  well as put an energy-saving plan in place.
Vital Plan, a North Carolina-based startup that offers natural supplements, guided online wellness courses and personalized coaching. A team of students worked with Vital Plan to fulfill their commitment to the B Corp Inclusion Challenge, an initiative that invited every B Corp to set goals and improve on three or more inclusion metrics in the B Impact Assessment. The group spent their semester working with the company to improve their family and medical leave policy, create ttrainingaddressing worker bias and develop a recruitment strategy to attract a more diverse workforce.
Looking Ahead
B Lab's journey to building a shared and durable prosperity started by building the market infrastructure, standards, and a B Corps  community of thousands of credible leaders. Next, the movement focused on creating the tools for other companies to be like a B Corp, tracking and managing their impact.
Looking toward the future, B Lab is focused on how to inspire billions of consumers, workers, investors, students and others to support businesses that are a force for good. Thought leaders in academia, business and government are coming to recognize the B Corp movement as the leader of a global culture shift and a powerful agent of systemic change in business.
References
1."Impact governance and management: Fulfilling the promise of capitalism to achieve a shared and durable prosperity," Andrew Kassoy, Bart Houlahan, Jay Coen Gilbert. Center for Effective Public Management, Brookings Institute, July 2016, https://www.brookings.edu/wp-content/uploads/sites/33/2016/07/b_corps.pdf
2. https://www.bcorporation.net/become-a-b-corp/how-to-become-a-b-corp/multinationals-and-public-companies
Jessica Thomas, Director, Poole College of Management, NC State University; jothomas@ncsu.edu