LOWES SPONSORS ENERGY EFFICIENCY IMPROVEMENTS IN DURHAM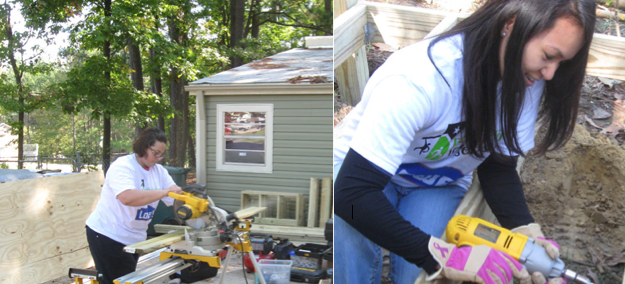 Photo: Rebuilding Together of the Triangle
While there's much talk of a solar boom in North Carolina, it's easy to forget that much of the sustainability challenge lies not in new clean tech, but in the relatively low-tech, unsexy challenge of upgrading our existing housing stock. From weather stripping to insulation to repairing leaky doors and windows, some simple improvements can offer a great return on investment – both in terms of dollars saved and emissions slashed.
Home improvement giant Lowes is doing its part on this front, partnering with Rebuilding Together of the Triangle to offer energy efficiency upgrades for low income families in Durham.
Here's more from their press release:
Rebuilding Together of the Triangle received a $10,000 grant from Lowe's to complete critical repairs and weatherization and energy-efficiency upgrades for local homeowners this fall. Rebuilding Together of the Triangle will work with 30 volunteers including Lowe's Heroes employee volunteers, to replace damaged windows, repair broken gutters and replace unsafe electrical components for a low-income Durham family to provide a safe, healthy and comfortable home for them to Lowe's provided a $310,000 grant to support 32 Rebuilding Together affiliates nationwide, including Rebuilding Together of the Triangle. Since 2007, Lowe's has contributed more than $9 million to Rebuilding Together to improve local communities.
Rebuilding Together works in communities across the country providing critical upgrades to homes for low income families, including accessibility improvements, fire safety measures and energy efficiency – and focusing not just on individual homes, but stabilizing vulnerable or neglected neighborhoods. They complete over 10,000 home renovations a year.