GROWING GREEN: NC BUSINESS INCUBATORS NURTURE SUSTAINABLE STARTUPS
by Katie Kross
North Carolina has long offered a wealth of opportunities and business support services for entrepreneurs, but lately, a new breed of business incubators is gaining attention. Across the state, socially- and environmentally-minded entrepreneurs are finding startup support tailored to their unique niches. From business incubators to accelerators and co-working spaces, these groups offer programming specifically for social entrepreneurs and sustainable startups.
BLUE RIDGE FOOD VENTURES, CANDLER, NC
Blue Ridge Food Venture's 11,000-square-foot "kitchen incubator" and natural products manufacturing facility in western NC offers a space for bakers, farmers, and restaurateurs to produce specialty food products ranging from organic chocolates to herbal teas. Entrepreneurs can take advantage of product development and regulatory guidance, advice on packaging, and help bringing products to market. The organization also markets its entrepreneurs' products in holiday gift baskets and in a unique frozen vegetable community-supported agriculture (CSA) program in the winter.
BUENA SPACE, WILMINGTON, NC
The brainchild of sustainable business expert Jonnie Sharp, BuenaSpace is a green-built co-working space in downtown Wilmington that caters to film, tech, and green businesses. Member companies of any industry may join, but they are expected to embrace Buena's commitment to pro bono work that supports the greater local community. Members take advantage of networking events in addition to office space in a newly renovated historic building.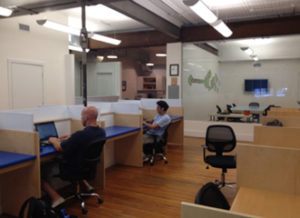 BULL CITY FORWARD, DURHAM, NC & QUEEN CITY FORWARD, CHARLOTTE, NC
Durham's Bull City Forward works to "dramatically increase the creation, scale and impact of social enterprises" in the local community. BCF members come from both for-profit and non-profit sectors, but all share a commitment to making a social impact. BCF members take advantage of entrepreneurship workshops, speakers, structured mentoring programs, and, optionally, co-working space in the group's downtown facility, where they share water cooler time with like-minded social impact ventures. BCF's model has been so successful that it launched a sister organization, Queen City Forward, in Charlotte in December 2011; executive director Christopher Gergen hopes to bring the model to other NC cities over the next year.
CLT JOULES, CHARLOTTE, NC
Uptown Charlotte's CLT Joules business incubator will host its first resident companies in June 2012. Focused exclusively on early-stage energy companies (which may include clean energy and smart grid technologies as well as more traditional energy companies), the incubator will provide resident companies with entrepreneurial tools and coaching in addition to full-time office space. CLT Joules is housed in Charlotte's Packard Place building, a renovated historic building whose green features include solar thermal, solar photovoltaic, and wind generating capacity on the roof. CLT Joules' co-founder, Dan Roselli, was honored as a sustainability champion by Sustain Charlotte in early 2012.
PiES, DAVIDSON, NC
The Project for Innovation, Energy & Sustainability (PiES) in the Charlotte suburb of Davidson has housed startups including Focal Point Energy, Electra Drive, Energy River, and Eco-Revolution. PiES hosts monthly "Green Drinks" events and provides its green business members with mentoring and business support as well as office space.
STARWORKS CREATIVE ENTERPRISES, STAR, NC
Deep in NC's "Central Park" region, STARworks Creative Enterprises has turned an old textile mill into an economic development success story. The enormous 187,000-square-foot facility currently houses a glass-blowing lab, pottery studio, clay factory, organic produce venture, and biodiesel plant, in addition to space rented to both for-profit and non-profit tenants. Before they are admitted, prospective tenants are vetted by a management committee for their commitment to supporting the center's mission of building a sustainable, resilient local economy.
Though each of these organizations has a different focus, these business accelerators and co-working groups collectively paint a picture of entrepreneurship in North Carolina that not only creates good local jobs, but also generates positive social and environmental impact in our communities. Now, that is sustainable.