FREE E-WASTE PICK UP FOR RTP IN AUGUST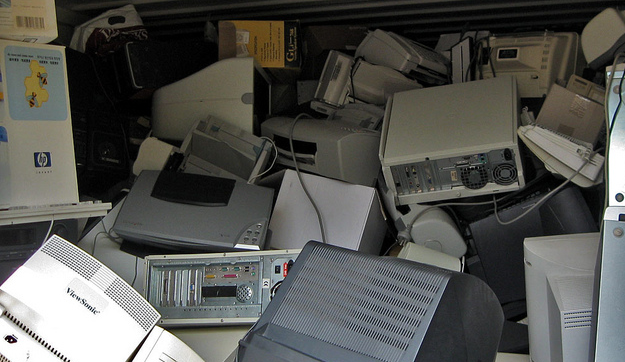 Photo: Mosman Council/creative commons
E-waste is a major environmental concern. But what if it could actually help fund education?
Old computers, phones and other electronics too often end up in landfill, potentially leaching out toxic chemicals and wasting the precious metals and other resources that went in to making them.
For the month of August, businesses in RTP can benefit from free e-waste pick up, and they can help fund education in the process.
For Larry Herst, founder of Triangle Ecycling, the problem of e-waste was also a missed opportunity. Here's how he set about turning obsolete and otherwise unwanted electronics into a learning opportunity for young people – a process Herst describes as alchemy:
"We collect ewaste from businesses and organizations – large and small – and individuals. We use what we collect as fuel for a sustainable STEM education lab. With the assistance of Durham, Chapel Hill – Carrboro and Orange County Public School administrators and teachers, we have set up a free program for high school kids to come work in our shop. They learn, hands on, about computer refurbishing, recycling, environmental/humanitarian issues surrounding ewaste and sustainable business models from our computer geeks and guest speakers, as well as me."
Of course doing good through the disposal of e-waste is likely to be a bonus for many businesses and individuals, but their main concerns are still likely to be security and regulatory compliance. As a regulatory lawyer, Herst is careful to emphasize that Trianle Ecycling is deeply committed to a comprehensive, secure and compliant recycling process – wiping or destroying all hard drives before hauling any recycling to its certified recycling partners Global Electric Electronic Processing in Durham.
The company's claims to having a positive social footprint are further enhanced by its use of TROSA as a non-profit hauling partner, and the fact that it donates 10% of its profits to Durham Public Schools.
Visit Triangle Ecycling to learn more about their offer of free e-waste pick up in August.