Poole College Hosts Leading Sustainable Supply Chain Researchers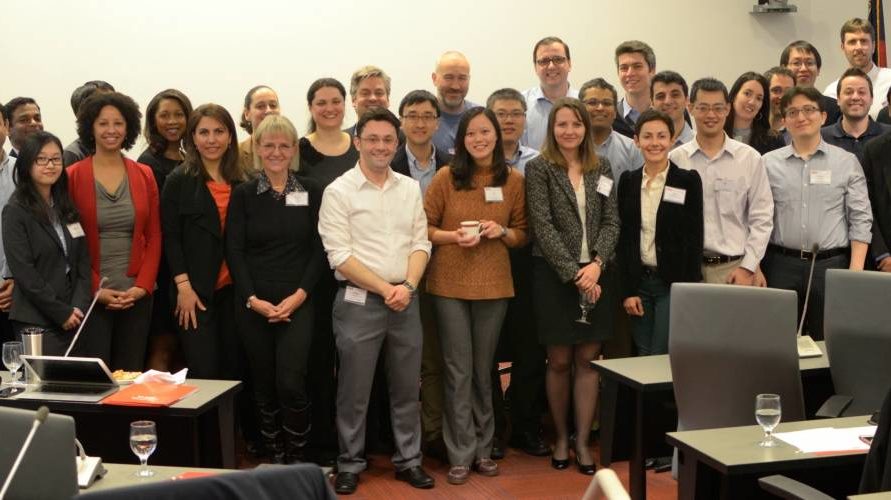 The second annual Sustainable Operations Management Workshop brought scholars from across the U.S. to help set a course for the future of sustainable supply chains and operations. The participants, all cutting-edge researchers who are part of an early-career research network, met to discuss important research questions in the are of sustainable operations management and to foster research collaborations.
This event was hosted by the Poole College of Management in conjunction with the Ray C. Anderson Center for Sustainable Business at the Scheller College of Business at Georgia Tech, as well as the Poole College Business Sustainability Collaborative and Poole College Supply Chain Resource Cooperative. The first annual Sustainable Operations Management workshop was hosted in 2015 by the Ray C. Anderson Center for Sustainable Business.
"The main goal of the workshop was to provide a networking environment for early-career faculty and based on the feedback from the attendees, we were quite successful at it," said Eda Kemahlioglu Ziya, who led the workshop. "The discussion during and following the paper presentations were quite lively and provided great feedback to the authors."
The sessions included topics ranged from "Inspections, disclosures and social responsibility" to "Closed-loop SCM and recycling" to "Environmental and Social Implications of Novel SCM Practices." An addition to the workshop based on the feedback from the previous year participants was a series of research incubator sessions that included a discussion of "De-carbonizing the U.S. electricity industry: Challenges and opportunities" and "Overview of Best Practices for Supply Chain Life-Cycle Assessment."
Ziya states that this event, and future events like it, will continue to shape research and conversations on supply chain sustainability. "Some topics that emerged as important include renewable energy, how to ensure compliance with environmental legislation and how to ensure companies adhere to standards of corporate social responsibility." The third annual Sustainable Operations Management Workshop will be hosted in 2017 by the University of Virginia.
Workshop Participants
James Abbey, Texas A&M University
Vishal Agrawal, Georgetown University
Isil Alev, Boston College
Saed Alizamir, Yale University
Atalay Atasu, Georgia Institute of Technology
Yannis Bellos, George Mason University
Gemma Berenguer, Purdue University
Vinayak Deshpande, UNC Chapel Hill
David Drake, Harvard University
Gokce Esenduran, The Ohio State of University
Mark Ferguson, University of South Carolina
Wayne Fu, Georgia Institute of Technology
Luyi Gui, University of California, Irvine
Dan Guide, Pennsylvania State University
Robert Handfield, NC State University
Bin Hu, UNC Chapel Hill
Natalie Huang, Georgia Institute of Technology
Ozge Islegen, Northwestern University
Eda Kemahlioglu-Ziya, NC State University
Tim Kraft, University of Virginia
James Levis, NC State University
Michael Lim, University of Illinois at Urbana-Champaign
Ruben Lobel, University of Pennsylvania
Rudhawarsh Loganathan, NC State University
Ho-Yin Mak, University of Oxford
Erin McKie, University of South Carolina
Karthik Murali, University of Alabama
Suresh Muthulingam, Pennsylvania State University
Adem Orsdemir, University of California, Riverside
Ali Parlakturk, UNC Chapel Hill
Morvarid Rahmani, Georgia Institute of Technology
Gal Raz, Western University – Canada
Kevin Shang, Duke University
Erkut Sonmez, Boston College
Greys Sosic, University of Southern California
Peng Sun, Duke University
Nur Sunar, UNC Chapel Hill
Jay Swaminathan, UNC Chapel Hill
Robert Swinney, Duke University
Jessica Thomas, NC State University
Beril Toktay, Georgia Institute of Technology
Aditya Vedantam, University at Buffalo
Shouqiang Wang, Clemson University
Yehua Wei, Duke University
Arda Yenipazarli, Georgia Southern University
Safak Yucel, Duke University
Karen Zheng, MIT Sloan School of Management