Better Business Teaching Note
by Nikki Hensley, BSC Associate, Ph.D. candidate in Sustainability and Data Analytics for the Bio-based Economy
I had the opportunity to team up with Christopher Marquis, the Samuel C. Johnson Professor in Sustainable Global Enterprise at Cornell University, to develop a teaching note for Better Business. This guide is to be used by the thousands of academics incorporating elements of the B Corp movement into their curriculum. Many people view B Corporations as just another certification, but this book details how the foundations of the movement can be used in every business model.
The next generation of students is eager to get into the industry and have a positive impact on all stakeholders and reinvent capitalism. More and more business schools, including the Poole College of Management, are making strides to add triple bottom line sustainability into courses. By using the teaching note, academics can guide students through Better Business while providing extensive additional research and discussion opportunities.
The four overarching topics of the teaching note are:
Topic 1: What is the Purpose of Capitalism?

Topic 2: Making the Shift from Shareholder to Stakeholder Capitalism

Topic 3: Managing Interdependencies

 

Topic 4: Changing the Future
The founders of B Lab and the B Corp movement share the same questions many students ask. These topics build the foundations to answer why modern-day businesses operate the way they do and what steps are needed to transform outdated practices. The teaching note includes summaries, discussion prompts, and further resources to create a well-rounded resource for students to be well-informed. In a time of crisis, Better Business provides guidance for how future business leaders can use business as a force for good and create unity in what used to be just a place of business. Christopher Marquis has an incredible passion for this work and it was an excellent opportunity to see where the B Corp movement is heading. As I reflect on this project, I look forward to the impact it will have on students and future business leaders.
The book is listed on all the major bookselling sites including Amazon and Barnes & Noble; you can also purchase it through sites that support independent booksellers such as Bookshop, IndieBound, Indigo and Powell's.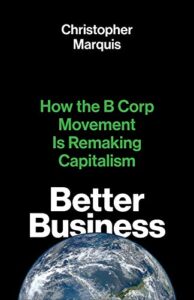 "BETTER BUSINESS: How the B Corp Movement Is Remaking Capitalism 
by Dr. Christopher Marquis, professor at Cornell University
A compelling look at the B Corp movement and why socially and environmentally responsible companies are vital for everyone's future 
Fifty years after economist Milton Friedman declared that the "Social Responsibility of Business Is to Increase Its Profits" (NYT, 1970), a new kind of corporate model is turning that credo on its head: The B Corporation. Not only is the number of B Corps exploding, but the B Corp model is influencing businesses of all sizes across all sectors at a time when a growing number of consumers are demanding a more conscious and equitable form of capitalism. 
In BETTER BUSINESS: How the B Corp Movement Is Remaking Capitalism (Yale University Press; September 13, 2020), Christopher Marquis details a new corporate ethos—one that argues that businesses can only truly thrive when they benefit everyone who is affected by their operations. 
Informed by over a decade of research and animated by interviews with the B Corp movement's founders and leading figures, Marquis tells the history of B Corporations and the origins of its certifying organization, B Lab. Since 2007, they have spearheaded a rigorous evaluation and certification of corporate performance whereby success is not just judged on earnings, but also on contribution to society and the environment. They helped define a new, threefold bottom line: people, planet, and profits. Just over a decade later, the list of B corporations has grown to include over 3,000 well-known brands like Hootsuite, Athleta, Patagonia, Kickstarter, and Ben & Jerry's. 
BETTER BUSINESS is not just about the growing number of certified B Corps—Marquis also provides a framework for all companies to accountably and sustainably implement a stakeholder governance model, which has been backed by such influential institutions as the Business Roundtable and World Economic Forum. 
As business leaders, employees, shareholders, and consumers wrestle with the complex issues of racial and social justice, COVID-19 recovery, and climate change, BETTER BUSINESS will help any business transform into an organization that addresses the next generation of consumer values. 
Christopher Marquis is the Samuel C. Johnson Professor in Sustainable Global Enterprise at Cornell University. His research focuses on how businesses are creating a more resilient and sustainable capitalism by focusing on the elusive triple bottom line of environmental, social and financial performance. Prior to joining Cornell, he worked for 10 years at Harvard Business School where he developed an award-winning course on social entrepreneurship. He is also the author of more than 50 Harvard business cases on sustainable business. He lives in New York City."